Sabrina: You said that the idea of "the sirens" was born during the summer of 2013 and it was officially announced in early june 2014. How did it go from an idea discussed between shows to a concrete project and a tour?
Anneke: Well that was the part that gave the most work. Now it's all running, we're doing the shows and it's relatively easy. It's all going pretty smooth. But from the idea to this big production, it's a lot of work. You have to pick the songs, you have to talk about it and then rehearse. Then you have to learn the lyrics from each song and so on. After that, you have to get gigs which is a tough business. So when it's done and you finally get to play, it's the best feeling. You feel very accomplished to put on this almost two hours show. People seem to really like it and it's such a great feeling.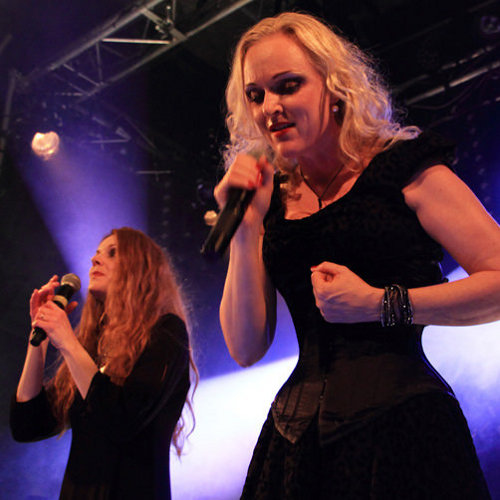 Sabrina: Since you first talked about the project in 2013, Liv Kristine and Kari, you both recorded an album. Did the concept of "the sirens" and the coming tour have any kind of influence on the composing and making of your albums?
Liv Kristine: To me The Sirens is a totally different thing, there is another spirit to it. There's my solo stuff and Leaves' Eyes and The Sirens. It's a way of tuning in to it, and gathering energy too. You have to really be focused on what you're working at the moment. I wouldn't write a Leaves' Eyes song and say "hey girls, here's a new Sirens song". That's not the way it works so it's really about getting focused.
Kari: My solo stuff is also more acoustic and has a folk pop atmosphere. So for The Sirens setlist I chose the more rock songs from my solo albums to make it fit to the concept. But in the same time, I also see now that some of the songs we do are more acoustic like "Why so lonely" and "Trollferd" and it works really well with the acoustic guitar and the cello. And it's good for the dynamics as well, it creates a good range from the very upbeat songs and the more quiet ones. And the audience are coming along to it. But of course like Liv Kristine said there is a big difference between our solo stuff and The Sirens. When we all agreed on doing The Sirens, it was to do a live thing, it's fun, it's like going back in time. The solo stuff is really different, it's more personnal.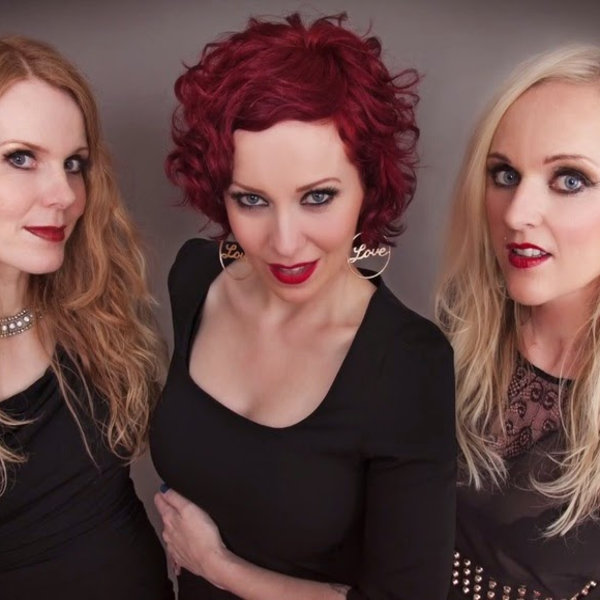 Guillaume: Did you all know each other back when you were singing in "The Gathering", "The Third And The Mortal" and "Theatre Of Tragedy"?
Anneke: We all knew about each other for sure, we inspired each other in this beginning of female fronted metal bands but we never met back in those days.
Liv Kristine: We were all touring the world at the same time but never met!
Kari: And also back in those days, there wasn't internet so we all used to write letters to and send each other mixtapes! (laughs)
Liv Kristine: And also we would answer our fan mail by hand to and send it by the post! (laughs)
Guillaume: Today is the last show of the first leg of your tour. How did it go so far?
Anneke: Excellent! So far it's been really great, the audience have been amazing, so warm and welcoming. And we're really looking forward to tonight, the french audience, there's nothing like it.
Sabrina: Between your solo careers and previous bands, you have an impressive number of albums and songs. How do you decide which ones are going to make it to the setlist? And which ones you're going to sing with who?
Kari: We went a very democratic way. Each one had six songs to pick so we all chose our songs ourself. But it was also important for us to get a balance between high tempo songs and ballads to create a good setlist. But i think it also came quite naturally about who was going to sing which songs with who.
Liv Kristine: We just picked and passed it to each other and it was pretty easy actually. And then we met and it worked! (laughs)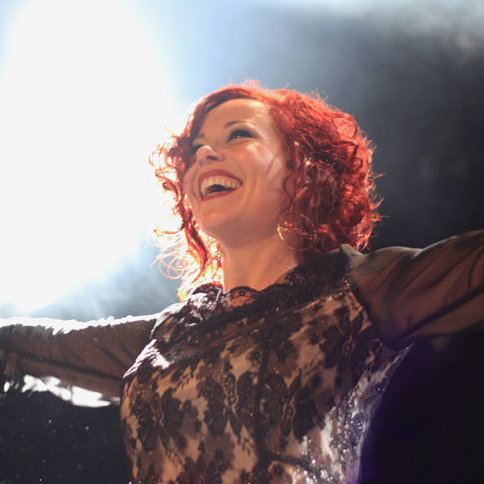 Sabrina: You are all used to working with your own musicians, how did you decide which ones would play with you on this tour?
Liv Kristine: I don't have a regular band playing with me on my solo stuff and Leaves' Eyes was in studio composing anyway. I think it was the same for you (to Kari).
Kari: Yes, so it was the perfect choice to use Anneke's band because they were already like a band. And also they were capable of managing the variety of our different songs and create a whole. It sounds like a real band and not like six different musicians.
Anneke: And it made the whole preparation process not that long and stressful. When we started rehearsing, they were already prepared for everything so when we came we just added the spices of each of our songs, of our different voices. And it was perfect.
Liv Kristine: Good looking guys too!
Anneke: Yes, it's a pretty band absolutely!
Sabrina: In addition to the songs from your solo careers and previous bands, you also perform two new songs that you've recorded especially for this project. Can you tell us how they were composed, did you all get together to work on it?
Anneke: We all initiated a song actually since there's a third song coming from Kari's hand, which is pretty cool. "Sisters Of The Earth", the up tempo song is from Liv Kristine and I did the ballad. The thing is since we live in different countries, we can't all go to each other's house and compose together, it would take much too long. So we just initiated some songs but the beauty is that we all have our own musical stamp so these three songs together are really a blueprint of what The Sirens are. And that's super cool to play them live all together because people get to know us that way.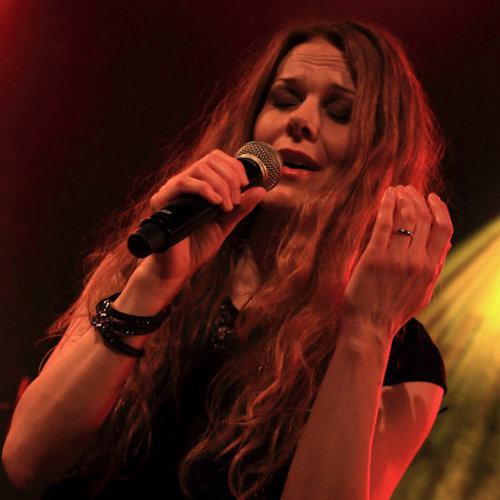 Guillaume: You released a photo-video for "Embracing The Seasons", have you planned on shooting a real video for one of the songs?
Liv Kristine: No it's super expensive!
Anneke: For The Sirens, we do the gigs and the money goes directly into the gigs again, for the band or printing some tshirts and things like that. Actually we don't earn money to invest on an album or other album related things. The Sirens is solely a live project and we use the money to better the project or to be able to play more shows. And it's really cool because The Sirens is also a way to show that we are present, that we have our solo projects. So everyone who comes to the show because they are fans of Liv Kristine, they also discover me and they discover Kari and the other way around. It's cool to show each other's fans what's going on. We're like a super cool billboard of this genre, of the female fronted metal band scene, of what it was in those days and what it is now.
Kari: But there's also really nice live footage that Liv Kristine's husband (Alexander Krull) is really good at.
Liv Kristine: Yes, he's getting better at it! (laugh alltogether)
Kari: So hopefully there will be enough so we can put together a live video!
Guillaume: We just learned this week that you would play with Nightwish in Trondheim in late august 2015 and we were really excited about it. We'd love to go. But is there also a chance that it could become more than a one time thing with Nightwish european tour probably coming somewhere between september and december 2015?
Liv Kristine: There is no plan at all for the moment. But if there is an invitation, we will definitely go!
Guillaume: They will probably be here around november in France. The last time they played in Bercy which is quite big, about 14000 people.
Anneke: Wow, we would definitely like to join this party!
Kari: I know Tuomas, he was a big fan of what I did in the past with The Third And The Mortal and the show in Trondheim will be a very big venue so it's an honor that asked us.
Anneke: And who knows, maybe if they hear us sing and they like it, they will ask us to do more shows!
Sabrina: The Sirens is a kind of celebration of how you were pioneers in metal when there were so few female fronted metal bands. So have you already thought of inviting other singers to join the band for just one show, one song or maybe some part of the tour?
Liv Kristine: We haven't thought about that!
Kari: It's a good idea though!
Anneke: Yes, maybe The Sirens as a project can live on with three new singers that would take over. But isn't it cool to imagine that The Sirens is The Sirens whoever the vocalist is.
Liv Kristine: It's all about the voices, about the love of music and the spirit of the female fronted scene. So we're really open minded about this but for now I would just like to sing with Kari and Anneke. I wouldn't exchange them for anyone! (laugh alltogether)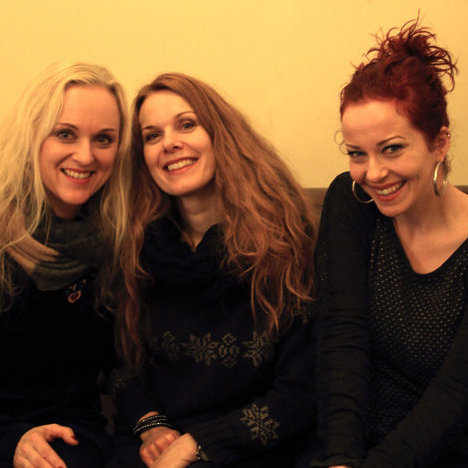 ■