Pierre-Manu: Alissa, from the fan point of view, everything went so fast : lineup changes and new album release, when have you really started working on Arch Enemy new and past songs?
Alissa: Arch enemy is a very serious band. It's really a band more than a business. We don't think about the proper quarters to release this and that. We just knew we had to make a killer album. So at some point last year, Angela wrote to me and asked to get in touch with Micheal because they needed to talk to me. And when they did talk to me, I found out that Angela just wanted to manage and she wanted me to replace her so they could continue making music. From then we started seing if it would work, if it would sound good if I sang some of the songs that Angela performed. Seing if we could work together, write music and record demos. In the end, all that seemed to work pretty well actually so we just got started on making an album because to release informations like this to the fans, the only logical way to do it was to show the fans music right away. We didn't think it was a very respectful thing to just give the info and that's it! And because the fans are very loyal, we wanted to make sure that they would know what to expect and that we would have lots of goodies for them like pictures and such. It's a very touchy subject in fact because in one hand you want to tell the fans everything that's going on but on the other hand, you just want them to know that everything's fine and we're making good music. So it was a lot of work, it was gradual but it also felt like it was really fast.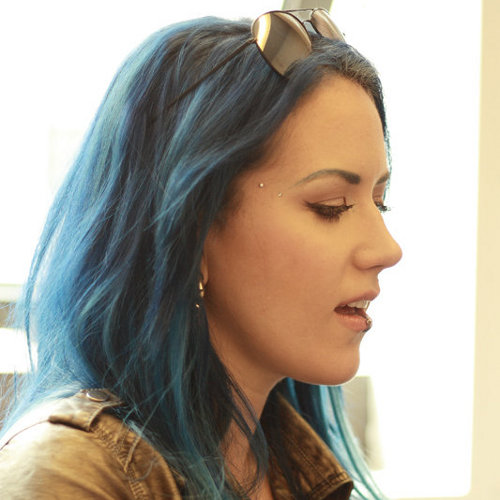 Guillaume: Michael, were the new songs already instrumentally composed before Alissa joined the band?
Michael: Five of them were. I went to the US in march to work on them, I brought a lot of ideas. I visited our guitar player Nick who lives in Virginia, just to be away from home and work on new music without being disturbed. So I came back from America with five songs but they were all instrumental. And when Alissa joined, I gave her those five songs and she started writing lyrics for a few of them. I actually had a few ideas, we had some kind of demos but no real songs, we had some bits and pieces like a quarter idea or a verse. Alissa got involved pretty early on. We had ideas but I wouldn't say it was really an album. It's a gradual process, it's hard to tell when you really start writing an album, it's more musical ideas. So it was a kind of limbo because Angela and I were unenthusiastic about working on new music. She made it really clear that she didn't want to write any new music, she wanted to stay in time out. But when Alissa joined it was really the start of this new album. That really gave us the focus when Angela quit and Alissa joined the band. We started to work a lot more seriously because we knew we had to rise to a really high level in a way. It had to be a fucking incredible album, not just a good album. You cannot start a new era with a mediocre album because people would blame Alissa. People would interpret that. We put a little pressure on us but it was also a lot of fun with all the creativity that went on this album. I think the album basically starts with the songs I put together in America. Maybe because they're the most traditional Arch Enemy songs. And then when Alissa joined, we started working on new music and it was brand new and we knew Alissa was our singer, which opened up a few more doors. We can do that here or this there because Alissa would be able to do amazing vocal parts on it. We were thinking with a different voice and the second half of the album is basically like that.
Pierre-Manu: Alissa, I guess joining Arch Enemy means you are going to concentrate on screams and growls only? Isn't it frustrating to let apart half of your singing abilities?
Alissa: I think like many of us in the band, we have other talents than just Arch Enemy songs. We're all able to play different styles of music. But I think that getting to a certain age as a musician is to know when to select what talent. I don't think it would have been totally appropriate to burst in a clean singing chorus on an Arch Enemy song because the guitars are already singing. So it's an interesting and different balance to have the singing being the brutal part and the guitars being the soaring melodic part. It's not often done that way in metal. It's not really frustrating, I'm totally satisfied with the music that we're making. We're all open minded so maybe we'll include clean singing in the future if it fits. To me, it feels like if we make a good solid song, it doesn't matter if it shows 100% of my abilities or just 5%. Some of the simplest songs are some of the best songs in the world in my opinion. So I feel it's really the mature thing to do for the band. We already have an established sound, I'm not gonna walk in and change the way it is. I did try certain little things though. I feel like in my voice I have a spectrum, here is pure death metal screams (on the far left of an imaginary scale with her hands) and here's Disney princess singing (on the far right) and I can go all the way through that. With Kamelot it's a lot closer to this side (right) and with Arch Enemy, it's a lot closer to this side (left). And there are certain interesting things that I did in between like on certain choruses for "As The Pages Burn" there's a melody in the screams, which I think is a very fun technique and one that I'm only now starting to explore. So in a way I actually stopped doing one technique and started to learn a new one. And that's the beauty when you get to work with new people, you get to learn more and more as you go on. And I also have this little side project that I'm doing at home with some really great canadian female metal musicians. It's really just for fun right now but that band will probably have some music to release pretty soon. And that's like almost all singing. So for those that really want to hear me sing, even if you don't hear that much in Arch Enemy, you can probably hear it in that band.
Guillaume: Can you tell us the name of this band?
Alissa: I'm not going to tell it yet because we're still working on it but it's all girls. There's me and Justine from Black Heart and also some of the members of Kittie. And we have fun making music together so it's a cool band!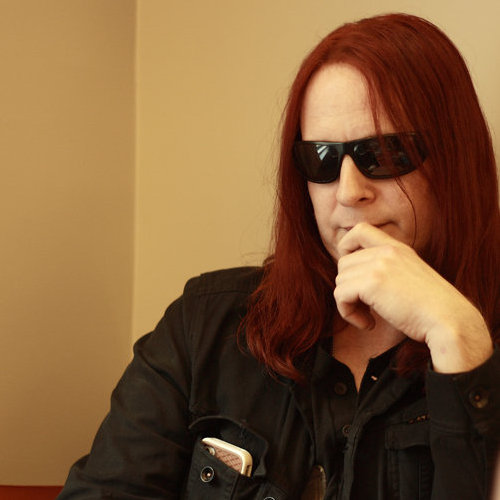 Pierre-Manu: Michael, you mentioned lately your will to improve as a guitar player and as a composer. War Eternal is much more composed of harmonies and we can hear Neo Classical guitar plans. Technically speaking, what are the improvements you did compared to past albums?
Michael: Yeah I guess I wanted this album to be "more". I wanted more speed and more melody. I was talking a lot about atmosphere but it's just a big word. I mean how do you define the word atmosphere. I just wanted more of everything, I also really tried to achieve a very high level of emotions. I think in the end "Khaos Legions" had a lot of really killer songs. But it was mostly a lot of anger and a very heavy sound, very riffs based. So this time I wanted to focus more on melodies. There's also killer riffs on this album but there's also a lot more going on with more intricate arrangements. The guitars are arranged differently, working with Nick for the first time. He's doing some techniques that are new to me, that I learned from him. I also taught him about how I do things, he had to learn how to play Arch Enemy. And I picked up stuff from him since we've been touring together for a year. We exchanged and bonded a lot and inspired each other. We were "hiping" each other like "it's gonna be the most intense project ever" and everything. We drank a lot of coffee and played a lot of guitar and sometimes things went a little too fast I think. Because now I think "how am I going to play that shit live" (laughing). It will be time to practice soon, to pick up the guitar and figure out what the hell happened and how we are going to achieve that. We had a lot of fun writing it. I just wanted to have a wider scope of emotions and I think Alissa is perfect for that. And we also worked with an orchestra and orchestra conductor for the first time on this album. That added a lot of depth and atmosphere to the sound. You can hear that on "Time Is Black", "Avalanche", "You Don't Know My Name" and also on the intro. That's where we have a real orchestra. We recorded with a guy called Ulf Janson. He's a very famous arranger in Sweden for more mainstream stuff like Celine Dion, Britney Spears, Backstreet boys, his history is mostly a lot of big ballads. But I met him at a party through mutual friends and we exchanged numbers. He told me what his job was to arrange orchestras and write string arrangements for these more mainstream artists. I thought it sounded really cool but probably super expensive. But then next day he texted me and said "I've listened to Arch Enemy and watched Nemesis on youtube and it's the most amazing thing I've ever heard and I want to work with you". The next week, I was at his house and we were sitting by the piano and I had my demos and my electric guitar. And I was like "I don't even know what key this is" but we tried to figure out what he could add to this music and that was a really exciting process for sure. It was the first time for us and it was really nice.
Pierre-Manu: Alissa, 10 years ago when you started The Agonist adventure, have you imagined for one second you would be joining such a big band?
Listen to Alissa's answer
Alissa: No my goal was always just to make music and to go as far as I can take it. I never planned on leaving that band or joining any other band. I just thought I'm gonna make music and hoped many people would like it. Ideally the goal was to make music and then not go home and work a desk job, to just make enough money that you can live from it. I never really imagined that but when it did happen, it felt really natural actually. I didn't feel that weird. I feel like it's the right timing for all of us, there's a good creative chemistry. I also remember when I was younger, I was watching a DVD from "Lamb Of God" and at some point, they said : "we struggled for nine years before anyone gave a fuck about us". So I said to myself if in nine years I still haven't achieved some level of success, maybe it's not meant to be! So here we are almost nine years later and this happens so it's kind of weird but also natural.
Pierre-Manu: And have you considered the possibility to manage both projects?
Alissa: Yes, that was my goal but the rest of my former band didn't want that so I didn't have a choice in the matter. I figured they thought I wouldn't have enough time. I cannot really speak for them because I don't have association with them anymore. But yeah, that's sad for me. But at least I'm glad that the fans have been so loyal on following me through the years and I'm glad that I'm gonna be able to give them an album that I'm really proud of.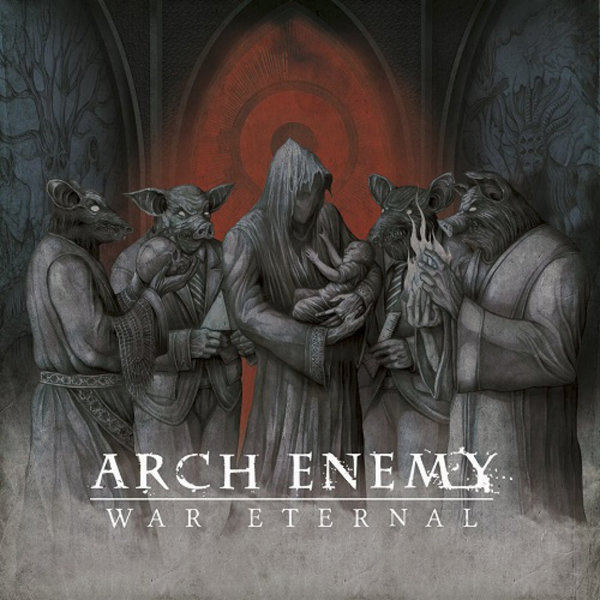 Guillaume: Can you explain us the meaning of the artwork created by Costin Chioreanu?
Alissa: I think it's one my favorite album artworks ever, not only of bands I've been in. It's really dark, it represents the feel of the album. I think if you start listening to the album and you look at this, you almost feel like you're in this room and watching this happen. Obviously the rats and pigs represent the rats and pigs of society in a figurative sense. The ones that try to sneak around and do evil things. They have tools in their hands like a pyramid, a skull and fire. Those are all very symbolic elements that mean a lot. Even the entire scene almost looks like a mockery of a religious scene. Instead of a glowing halo of light glowing behind some god, we have the Arch Enemy logo in a hellish red light behind the face of Death. It means there's an eternal war going on. We don't necessarily mean a war between nations or fighting over oil or things like that. It's just that you entire life is a battle. From the moment you're born, the only real protection you have is death. And people are always going to be surrounding you, they'll have their eyes on the prize, they'll try to change you and try to get what they can out of you. And sometimes it feels like there's no escape. And that's what our lyrics are talking about. Remember who you are, stay true to yourself. Don't stop fighting because this is an eternal war. It's a sort of acknowledgement of all the political topics that Arch Enemy have covered in the past but also taking it to a more personal area so the fans can really relate to it.
Pierre-Manu: So you just answered my next question. The whole album seems to center around past pain and sufferings and the ability to stand tall, getting stronger, being confident in yourself and let the past behind whatever people say. Is life an eternal war to you? Is it the message you want to pass on?
Michael: Yeah exactly. As heavy and dark as the music is, we also have a lot of positivity as well. Because there's the darkness, but there's also light at the end of the tunnel and it's something worth remembering. I think we will always be that kind of band.
Pierre-Manu: Michael, you chose to entrust mixing and mastering to a new person, Jens Bogren (Opeth, Paradise Lost), could you please elaborate on this choice?
Michael: We worked a lot with Rickard Bengtsson. We met at a festival a long time ago and we thought that we worked a lot together and pretty much achieved everything that we could together and maybe it was time to move on. It's easy to always go and work with the same people all the time. If we went to work with him once more, we knew exactly how it would sound like which is the same as what we always did. We did a really great job with him, really great albums. It was just time for something new.
Pierre-Manu: I think the sound of War Eternal looks "cleaner" and more precise, when you isolate to hear the album, you hear more details.
Michael: Really? Cause actually I think it sounds more organic but I guess these kinds of things are very subjective. I'm really happy about it , you can really hear all the different instruments and every solos. But I think the overall impact is really strong.
Alissa: I really wanted an album to sound like this and now I have it.
Michael: It sounds really heavy and full and thick. We wanted a lot of depth to it and I guess we achieved that and this atmosphere we were talking about at the beginning. We're really happy. When you make those terrible demos in the beginning and you say "imagine this but a very big production" . Sometimes it doesn't really work and you don't turn out with the album you hoped for. It happens with every band. But this time, it worked I think because we allowed ourselves so much time to work on every detail, we were able to achieve the sounds that we had in our heads.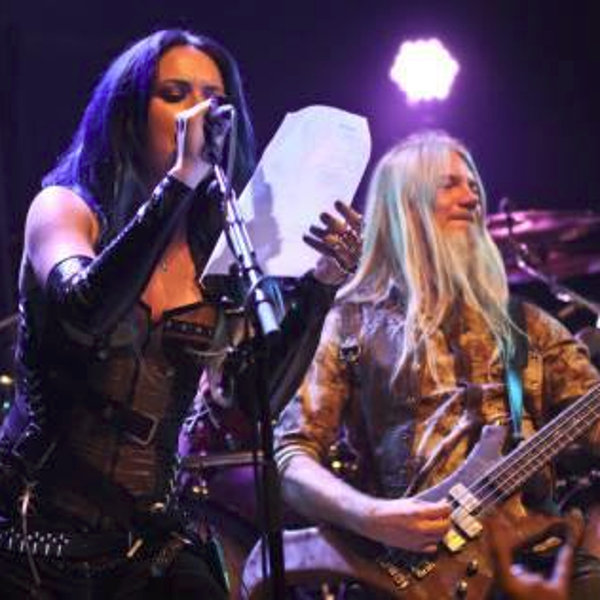 Guillaume: Alissa, Lately you appeared as a guest in some projects: Kamelot, Delain and you performed during one unexpected special show with Nightwish, how did these bands come to know you and propose you to sing with them?
Alissa: I think I've just been lucky in a sense that I've always thought that if I work hard good things will happen to me. I hope that's how the world works. So I've always worked hard and tried excelling at a lot of different styles of music and a lot of different styles of singing. Kamelot got to know me because with my former band, I opened for them on a tour and instantly became friends with them and started singing with them on that tour. And they were like "OK maybe you can do a couple shows with Elize". And then Tommy joined the band and it sort of became that new show that was a lot of fun. I really love Kamelot, I'm still going to sing with them whenever I'm free. I actually have a couple shows lined up with Kamelot still. Delain opened for Kamelot on tour and I thought this band sounds amazing, I have to check them out. So I went to the merch booth and bought their CD and listened to it while I was jogging. And I was like "yeah, it's an amazing band, I was right" Then they asked me if I wanted to sing with them and of course I did because it's just really good music. And with Nightwish as well. Kamelot opened for Nightwish and I think Anette was killing it every night. She's an amazing singer and such a cool person too. One night, we we're getting out of stage and Anette was sick so we were asked to fill in. We didn't really know what was going on but we were like "OK there's a venue full of people that want to see a show". So we asked them if they wanted us to fill in or if they wanted a refund and just come back to see them when Anette is feeling better. And I think that everybody was already there and they just wanted to see it that night so we did that and the fans were super receptive. And now there's Floor and I think she's one of the most respected singers. She's doing an amazing job, she's a really great singer too. I feel very lucky actually to have worked with so many different bands that are the best in their genre. And also to know so many talented vocalists but specifically Tommy Karevik, I think he's the best vocalist I've ever heard. You should listen to "Seventh Wonder" and listen to that guy sing because it's "hoooolly crap"! I don't know anyone that can sing like that. There are so many talented female vocalists that I work close with now : Angela (Gossow), Anette (Olzon), Elize (Ryd), Floor (Jansen) and also Charlotte (Wessels). And it's really amazing to me. Because I remember when I started, I was feeling so alone and now so many kick ass bands are fronted by women. So it's really a cool thing to be part of.
Pierre-Manu: A tour is starting in May this year, I can't see any date in Paris, is there any reason?
Michael: Actually there's one on December 2nd but it's special guest to Kreator. It's a big metal tour that's going through Europe.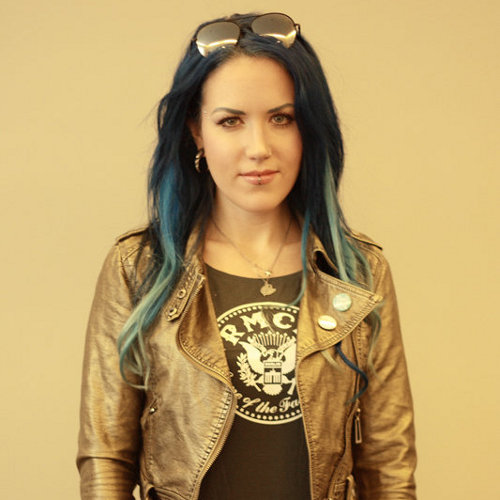 ■