Nicolas: Can you explain why the album is called "The Quantum Enigma" and what is the main theme of this album, lyrically speaking?
Simone: The quantum enigma is basically a part of the quantum physics: the search of the perception of reality. What I see and what you see is different because what I see is influenced by our mind. So it's not really reality but what you think is reality. So in a way it's really philosophical but also scientific. And quantum physics has also been a part of "Design your universe" with "Kingdom of heaven". On this record Marc wanted to have this little bit of a concept. This red line goes through all the songs and lyrics, they're very spiritual and philosophical. The human mind is basically what we are writing about. It sounds very complicated and scientific but it's a huge unknown world on which we can write many more songs about.
(Simone to Coen) Do you have something else to say about the quantum enigma and the meaning of it?
Coen: It's the best metal album ever!
Simone: (laughs) It's true!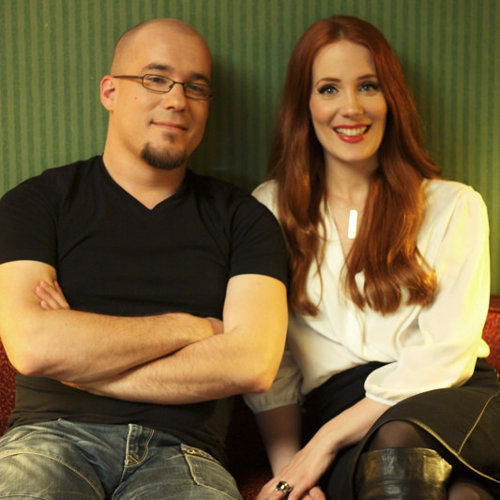 Guillaume: Every song on this album sounds really complex and needs several listenings to "understand" them. How did you compose the album?
Coen: It's basically the same as we always did. I actually think this album is a bit easier when you hear it for the first time. For instance, I think you don't have to listen to it as many times as our previous album. But I think it's because we recorded it a bit differently. We all went to the studio together and had more time to focus on the details together. So instead of working through the internet and sending each other melodies, we went to the studio and talked about it and interacted more so the level of detail is much bigger on this album. But still I think the overall songs are easier to get at first hearing.
Simone: It's more compact, we don't have many long songs, we have catchy melodies and good riffs.
Coen: Yes I think they're more songs on this album instead of musical pieces.
Nicolas: How did you find the perfect mix between the many elements of every song (vocal, instruments, choir, orchestra, grunts...)?
Coen: We always search for the perfect mix, we will always continue until it's perfected. But I don't think you can ever perfect music, it's a natural flowing thing.
Guillaume: The art-cover is a very complex picture with a lot of symbols. Can you describe some of them ? Why a buddha for instance?
Simone: You have the mountain and the eye, which it is how we see the world and there's the underwater world that is much bigger than the world we actually see. There is also a lot of mystery with the boat searching for the answers, the questions of life you have. The buddha which stands for spiritualism. You can also see the symbols that represent the elements: earth, fire, water, air. And there are also the DNA and molecules: the matter of life and death that are ones of the topics as well.
Coen: There's a lot which the eye can't see.
Nicolas: We saw "the essence of silence" lyric video and there's an alternative version of this image with a skull instead of the Buddha and smoke coming out of the mountain.
Simone: This is only a part of the artwork, so when you take out the booklet and open it, there is much more going on. So this is the center of it but there's even more than what you can see here.
Coen: The picture symbolizes that you cannot see everything but even the whole picture is only a fragment of what you can see. So there are a lot of layers and philosophical questions involved.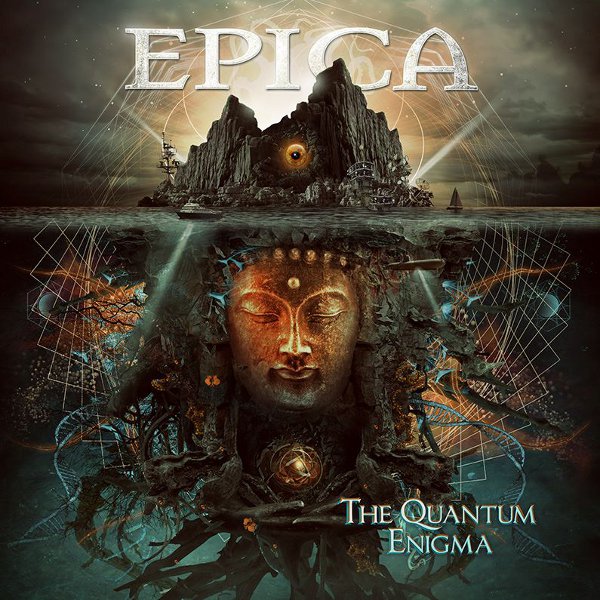 Guillaume: Is the cover by Stefan Heilemann?
Simone: Yes, that's him. He also did the artworks for "Requiem For The Indifferent", "Design Your Universe" and "The Divine Conspiracy".
Coen: We've worked with him since "The Divine Conspiracy", he's a great artist and we love his work.
Nicolas: "Kingdom Of Heaven" was one of the most emblematic songs from "Design Your Universe". You pretty much already answered that question but how did you decide to compose a sequel ("The Quantum Enigma - Kingdom Of Heaven II") 6 years after?
Simone: Topic wise, the quantum physics was already on "Design your universe" and it was Marc's main inspiration on this record lyrical wise. And the song itself also has the introduction by Tibetian Monks (the really low singing) and the lyrics are also about the questions of life. There's also the question of life and death but it's more the theme of "Sense without sanity".
Coen: It also works for "The Quantum Enigma". The songs talk about the same things. Fairly late at the end of the producing process, it was decided it would be called "Kingdom Of Heaven part 2". There's this connection with "Design Your Universe" because we feel that maybe it has more connection to "Design your universe" than to any other song on the album.
Nicolas: You like to end every album with a very long song. Some composers, like Tuomas Holopainen from Nightwish, find it easier to compose a long song (like Ghost Love Score or so) than trying to put everything they want in a 4 minutes song. What's easier for you? And what kind of song do you like to compose the most?
Coen: It depends. If you have a shorter song and you want to put everything in, that's very difficult. But if you have a long song and want to keep it interesting it's also difficult. There are pros and cons in composing all kinds of song. Sometimes you have to go for a song to be a song. Like beginning, middle, end and easy structure just because the song asks for it. And some parts like "The Quantum Enigma" just have to be longer. Even the verse and the chorus are already longer so eventually it builds up to be much more. But still I think about "The Quantum Enigma" as a song. It's ten minutes but it doesn't feel like ten minutes. Or "Consign To Oblivion" which is also ten minutes but it doesn't feel like it, it feels like 3 minutes. It's what I think music is as an art, it's a time art. You have to stretch the time or make the time more compact in a way to experience it. It's not premeditated, you don't sit down and say "i'm gonna write a short song", for me it doesn't work like that. We start to write and see where it ends!
Guillaume: We're both fans of the video game "World Of Warcraft", and the interlude, "The Fifth Guardian", reminds us of the music from "Mists Of Pandaria". Do you know this game?
Coen: No, I've never played "World of warcraft" but I know it's with the pandas right? I've played "Warcraft" back in the days but not the online thing!
Guillaume: How did you come to compose an "asian" interlude?
Coen: It started with Isaac composing "Chemical Insomnia" which has this theme in the chorus. And when he played it to me, we were on tour in Russia I think, it sounded asian, it had this asian key in it. So I thought we should do a massive intro for that song and make it asian. So it also wrote itself basically. If you want to go for an atmosphere like that, you've got to look for instruments that fit. And if you end up with an asian sounding interlude, I guess it will immediately remind you of a kungfu panda soundtrack or a world of warcraft soundtrack probably. You know it has this asian vibe because of the instrumentation and the harmonics and melody. And we're also big kungfu panda fans!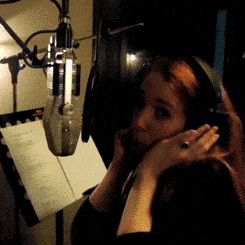 Nicolas: The album lasts 70 minutes with 13 songs, but you're going to release 5 more bonus tracks in the several editions of the album. How did you make your choice between the ones you kept for the album and the ones you left as a bonus?
(Coen gives fake fist punches)
Simone: It was difficult actually, because we all had our favorite songs. For this album we've written and recorded 18 songs and we like them all equally as much so we decided very shortly before the deadline was there. "Ok this is going to be for the CD and this is going to be for the additional tracks". But in order for the songs to not hide somewhere in a dusty corner we really wanted to put them out there as well so the band can have them on a CD. So we have the songs written here (shows our paper with song titles written on it) and also acoustic versions of them so we have eight songs. It's crazy, it's the biggest work we have ever done! In the past we would have like one extra song that would go to Japan or so.
Coen: Which wasn't that good mostly but now if there was a possibility to put 80 or 90 minutes on a CD we would put all the songs on it probably. It was a hard decision which songs would not be on the album, it was a struggle.
Guillaume: When we met for the promo of "Requiem For The Indifferent", you told us that the 70 minute limit of a CD was always a problem for you. For example you had to cut some small parts from "Kingdom Of Heaven" (in "Design Your Universe"). Did you have the same problem with "The Quantum Enigma"?
Simone: I know that the song in the demo stages have been cut and copypasted to try to put more structure in them but not because we didn't have enough time. When we made the selection of the songs, Coen was doing the maths, like this song is 6 minutes, this one is 5 minutes so we can either put that song or this one on the list in order for it to fit. Because some of us wanted to have the long interlude, others the short ones. So we had to make the mathematics to put all the songs that would fit. But we didn't cut any more of the music, that would be a waste!
Nicolas: I've listened to the album a lot, but I wasn't able to recognize some moments from the studio reports you posted a few days ago on YouTube (like the end of the first video report). Is it from one of the bonus tracks?
Coen: Yeah, somehow mysteriously, most of the things we recorded with the camera in the studio is from the additional tracks.
Nicolas: Because I was beginning to go crazy!
Simone: That's the quantum enigma, it's a part of it all. (laughs) But yes it's like Coen said, but we gave a lot of the music in those documentaries but they're not the songs on the record so it's still a bit of a mystery.
Coen: And also it's just the instrumental versions.
Nicolas: The next one is probably a dumb question so I'm sorry in advance!
Simone: There's no stupid question!
Nicolas: I was wondering if "Chemical Insomnia" was a reference to "Inimical Chimera" from the first After Forever album? Because the names sound alike and the beginning of each song sound a bit the same too (a very fast tempo)?
Coen: (laughs) That's a stupid question!
Listen to Simone's answer
Simone: No, not in any way! You can always speculate but no! The song was written by Isaac so there's no connection with After Forever and the lyrics come from me and I absolutely didn't have "Inimical Chimera" in the back of my mind. The song itself deals with an insomniac who's addicted to sleeping pills. It's like a vicious circle where you don't know if you're sleeping or if you're awake. Nightmares, dreams and reality are mixing. I actually wrote that shortly after I gave birth because I was so tired. I didn't take sleeping pills (laughs) but you do go a little bit crazy if you don't sleep at night. But people don't have to be afraid I'm addicted to sleeping pills. Actually when I told Marc what the lyrics were all about he was like: "Are you OK Simone, is it autobiographical?". And I said: "No, I'm very tired and I don't sleep but I'm not addicted to sleeping pills". I've never even taken a sleeping pill!
Nicolas: OK, so I'm just thinking too much!
Coen: (laughs) But from now on, in every interview, we're gonna say it has a connection to make it even more complicated!
Nicolas: OK, thank you!
Guillaume: Your next tour will begin in a couple of months, with a special release show at the end of April. What can we expect for these new shows?
Simone: We're all gonna stand on stage naked and Coen will hide behind the keyboard then!
Coen: that would be funny ! But we're just starting to build the show now. Of course we're gonna do a big show, but not as big as Retrospect, that's not possible because it takes 2 years to prepare. But we're gonna try to keep on aim and make a good show that will be again energetic and maybe with a few surprises. And hopefully we can take that show on an European tour and come through France also.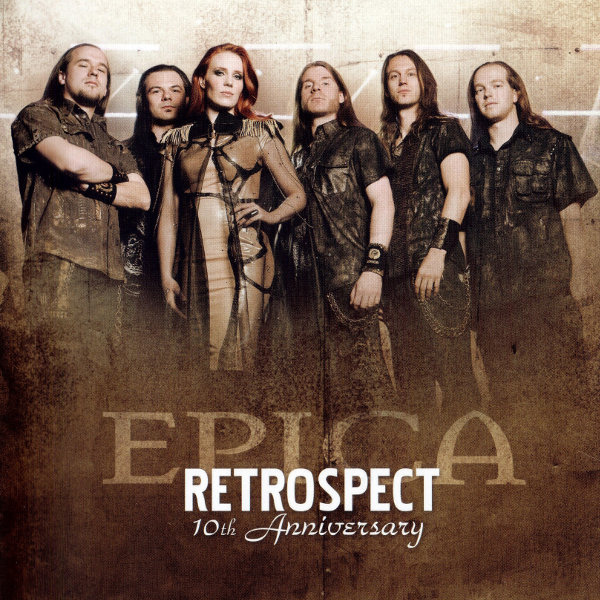 Nicolas: Do you know when will that be?
Coen: We're probably gonna tour in November/ December so we will probably be here in November or december. And there's also this one really big show in Paris which will probably be in January 2015. it's gonna be bigger than we ever did before. Maybe it's going to last longer but it's also going to be in a much bigger place. So we may not come to Paris during the European tour to be able to make this really big show in Paris later. It's a place you probably know so don't worry! Bigger the place, bigger the show and more awesome it will be!
Guillaume: Most of your songs are quite long and you now have 6 full albums. How do you decide on the set-list?
Coen: There will be a lot of fighting again!
Simone: Yes everybody has his favorites and even though we promote a new album, we still play songs from each record if we can. If we have a headline show we have 1h30 to 2 hours which gives a good selection of songs. But we can also play the 6 long songs and have a short setlist!
Coen: The thing is we're gonna play the whole album on the release show of course and it's really when you start to play songs in front of an audience that you learn which songs work live and which ones you should not better play live. I guess those songs will remain and the rest of the setlist will be old fan favorites.
Nicolas: Are you gonna change the setlist from one show to another?
Coen: We usually have like a framework of songs and try to change it a little bit to keep it interesting for ourselves and also for the fans. But you know mostly everybody wants to hear "Cry For The Moon" anyway, so... (laughs)
Simone: And "Consign to Oblivion" as well!
Coen: But everytime a new record comes out, you have to cut songs, it's becoming more difficult with each album!
Nicolas: Simone, you had your first child (Vincent) last summer, and Coen you also have two children. How are you going to manage both being on tour and being a parent?
Simone: We both have family that will help. Coen already has more experience because he already has a 3 years old daughter and now he has a son. So we bond, we talk about it, show each other pictures like: "look that's my son". Which is actually nice now because he's not alone anymore and I also have somebody to talk about that. I'm in a metal band, we tour and I love touring. I always wanted to be a mother and I'm a mother now. And I'm going to combine both of best worlds, so far so good!
Coen: You know it can always be worse, you can work on a boat and be at sea for 6 months when we're only on tour for a month in a row. It's not the ideal situation if you want to be at home with your kids but it's your job you've got to make it work somehow, otherwise you should quit one or the other. Quitting your family is not an option (laughs) but quitting your band is also really hard!
Simone: When we're not on tour, we're home and can work by the internet. So sometimes when you're gone for a month, you're also 1 or 2 months at home after that.
Coen: And then you don't have to work at all so you can be with your kids at full time and it's an advantage over any other job. I have father friends, two days after their child was born, they had to go back to work for full days. And I've been at home full time for half a year after my daughter was born and my son as well so that's very fortunate. But then again in one month I have to go on tour.
■